Our history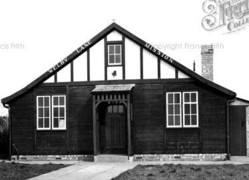 Welby Lane Mission Church began in the late 1930s. It was started by a group of people connected with the London City Mission. For many years the London City Mission had sought to tell people of all backgrounds and walks of life in London the good news about Jesus Christ. A certain Miss Janet Crosher of Melton was very supportive of their work and saw the need for more people in Melton, not just in London, to hear this message. So plans were made to begin meetings in Melton that told people about Jesus.
The first meetings were held in a in a tent in a field near Welby Lane to the north of Melton. Local people came along, including many children, and so the work began. With help from the London City Mission the meetings continued through the war and then gathered apace. Miss Crosher bought some land for a permanent base for the mission and a wooden hut replaced the tent.
As time went on more and more houses were built in the area around the mission. In 1956 the wooden hut where the mission met was replaced by the brick building that stands today. An afternoon Sunday School ran teaching local children from the Bible and singing many song together. Many people in the area today still remember their days coming to the Mission as children.
Though proud of our history, and thankful to God for his many kindnesses to us over the years, we look ahead with confidence. The message of good news that first drove Miss Crosher to start the mission is the same message that drives the church today. Though the building and people have changed over time, the message of salvation through faith in Jesus remains unchanged.